"Losing my grandfather and aunt to COVID was something that I never expected or never imagined, but I knew that they (are) sending me this opportunity so I could help out my community." Ashley Herrera, Hanceville High School Sophomore/CATA Health Science Student
---
Cullman Area Technology Academy (CATA) health science students recently had the opportunity to help at COVID-19 vaccination clinics. The Cullman County Health Department reached out to CATA in early January, asking if students would be willing to assist. CATA and the health department have a great working relationship, most recently with drive-thru flu vaccination clinics.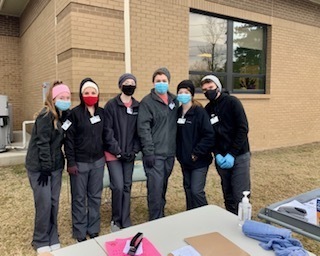 CATA Health Science students assist with COVID-19 vaccination clinic.
The magnitude of planning for one of the largest vaccine drives in history was a daunting task that the Cullman County Health Department handled with grace and persistence to ensure it ran smoothly. How does one plan for a pandemic and subsequent mass vaccines when there has not been anything to this magnitude in our lifetime? This historic event showed us that seasoned healthcare workers, educators, and other professionals were no different than those just entering the workforce, no one had experience with a pandemic. The one thing that was desperately needed of everyone was to be flexible and work as a team while showing grace to those who were "in the trenches" to ensure that our community could return to a sense of normalcy.
43 volunteers
All Cullman County Schools represented
956 community service hours from January 18 - April 14
Without the support of Dr. Shane Barnette, Cullman County Superintendent, Mr. Billy Troutman, CATA Director, and the guardians of the CATA Health Science students this volunteer opportunity would not have been possible. Student volunteers were asked to assist patients with completing paperwork, checking temperatures, sanitizing clipboards, helping patients navigate through the vaccine process, translating when needed, registering patients, observing patients post-vaccination, and maintaining supply levels for items needed daily. During the first week of the Covid vaccine clinics, we were able to have 5-7 second and third-year health science students there daily. These specific students were chosen to go during this first week because they had some knowledge/experience with clinical/observation sites and the expectations without the need for an instructor to be present. At the end of the first week, we had a greater understanding of the magnitude that volunteering at these clinics would have on our students. Their excitement for serving their community and helping with a historic event further solidified their goals of working in healthcare.
Alondra Lopez is a second-year sophomore in the program who attends Hanceville High. "I feel like I have more insight on how the health field works and all of the ways that you should handle patients," said Lopez. "We were always working and doing so (that) has helped me learn that the more you work, the more you get accomplished." Both Lopez and classmate Ashley Herrera volunteered more than 40 hours during the first week of the clinic. Herrera lost a grandfather and aunt to COVID, so seeing the relief of so many newly vaccinated patients brought comfort to her. "All the patients that came through the clinic would tell me that they were so happy that they could get the vaccine and that they could finally leave their house," said Herrera.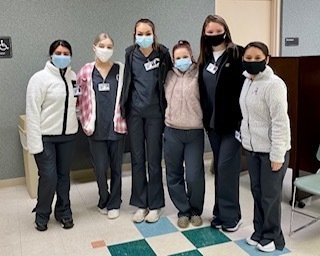 CATA Health Science students assist with COVID-19 vaccination clinic.
In the following weeks, health science instructors opened this opportunity up to all interested health science students. Both Adriann Basch and Tracy Smith were with all first-year students on their first volunteer day to ensure that the student felt comfortable and knew what the expectations were, once comfortable students could then schedule volunteer days independently. This experience proved to be beneficial for everyone involved. Students learned the flow of the clinic and were able to assist with maintaining a flow that was helpful for both the patients and the medical staff.
One appreciative parent took the time to email the CATA instructors about her experience after bringing her son, who has Down Syndrome, to get a vaccine at one of the clinics. "They were very professional from the time the sweet girl greeted us until we had to wait for them to observe us I seriously thought they were college nursing students because of how mature, friendly, and professional they acted."
The clinic director at the Cullman County Health Department said the help was vital, and came at just the right time. "They were a ray of sunshine during a time that was stressful and unknown," said Leeah Harcrow. "We hope this is something the students will be able to look back on when they grow up and share with their children and grandchildren they got to be a part of."
The students were also recognized at the state level, with an appreciative letter from the Alabama Department of Public Health.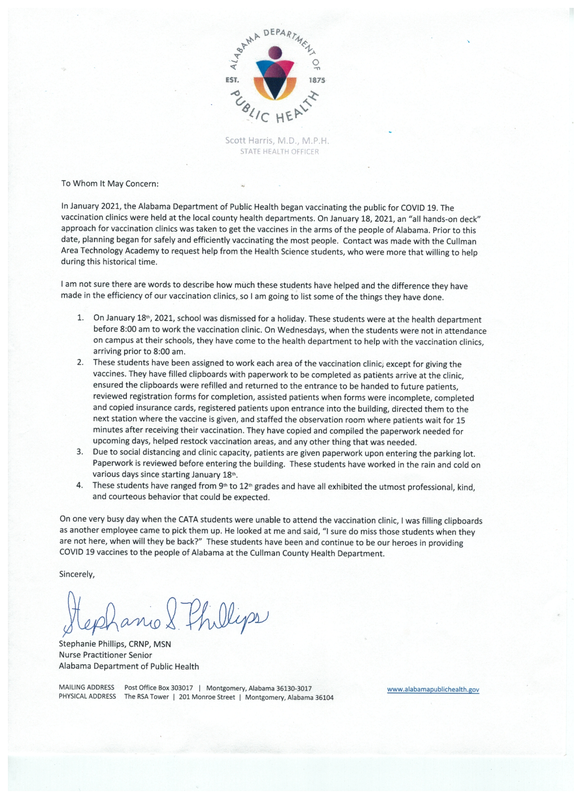 Alabama Department of Public Health letter of thanks to CATA students.
"The majority of the volunteer hours were completed by 9th and 10th-grade students, which meant family members had to be willing to drive them to and from the health department," said Tracy Smith, one of the CATA Health Science instructors. "This not only speaks highly of our students but their families."
This opportunity came at a perfect time to fulfill the desire many had to help those in our community. The fact that Cullman County CATA Health Science students ages 14-18 were able to assist with a historic event that will shape their healthcare careers is undoubtedly one of the happier stories to come out of this pandemic. We look forward to many more opportunities to help our community agencies in the future.
If you or your agency would like to have CATA Health Science students assist with your events, feel free to call and speak with instructors at (256)734-7740.
Cullman County Schools is proud of these students who volunteered to make a difference in the middle of a pandemic.
Breanna Arnold
Briece Buxton
Haley Chapman
Justin Cloud
Samantha Cofield
Tiffany Cofield
Rylee Curtis
Riley Daugherty
Maegann Dingler
Mattie Driggs
Samantha Aaron-Duchock
Raigan Easterwood
Desiree Elliott
Alivia Farr
Breaze Freeman
Olivia Haff
Allie Hamm
Blake Heaton
Aiden Helms
Haylee Hernandez
Ashley Herrera
Shelby Hix
Abby Hutchinson
Valerie Lee
Alondra Lopez
Ashton Mitchell
McKenzie Mize
Hailey Moody
Morgan Nail
Simon Quintero
Cole Riggs
Jaeden Smith
Trinity Snyder
Abigail Tankersley
Mionna Ward
Kashlyn Whisenhunt
Alivia White
Jasmine Wilson
Sidney Woznicki
Haylee Wright